exchange portfolio
EXPECTATION OF PRIVACY
Viewing and Pick-Up : Thursday, March 19, D Session, 3:30pm-5pm, KCC 200DE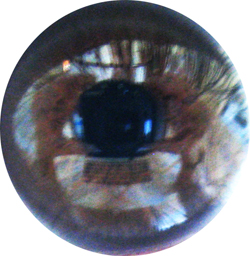 Editions Due to Portfolio Organizer: December 15, 2014
This portfolio asks participants to consider what privacy means today. We live in a world where our sense of privacy is being drastically changed if not irreversibly eroded. The exponential growth of communication technologies, digital storage, CCTV cameras, social media, and digital cameras, has made a dramatic and beneficial change to our lives, but at a cost. Cameras and phones have GPS tracking, as do many new cars. Stores can track customer habits, via a phone signal, as they browse and drones are now so small and cheap they can be used by private individuals, and as I recently read by paparazzi. Does our use of certain technologies influence what we do? There has been a growth in reality programs, the sharing and posting of photos and videos (legal or not), and many people do choose to share their lives publicly. What is privacy?

Paper Size: 14 x 18 inches. No more than 1/8" thick

Edition Size: 24

Technique: Any archival technique including digital, laser cutting etc.

Participation Fee: $10. Participants will cover all mailing costs and provide Glassine interleaving. Mailing costs can differ significantly, particularly for international participants.

No portfolio box included.

PARTICIPANTS:
Miguel A. Aragon. College of Staten Island. USA.
Marnie Blair. Red Deer College in Alberta, Canada.
David Bradway. University of Mississippi, MS. USA (Student).
Erik Brunvand. University of Utah, UT. USA.
Burt Bucher. Missouri Southern State University, MO. USA.
Patricia Carter. Georgia Southern University, GA. USA.
Catherine Clements. Bowling Green, OH. USA
Zachary Davidson. Indiana University, IN. USA (Student).
Justin Diggle. University of Utah, UT. USA.
Monica Farrar. San Jose, CA. USA.
Mandy Ferguson. Converse College, SC. USA (Student).
Ruthann Goldollei. Macalester College, MN. USA.
Dusty Herbig. Syracuse University, NY. USA.
Michael Kempson. University of New South Wales. Australia.
Martyna Matusiak. West Liberty University. WV. USA.
Jonathan McFadden. University of Kentucky. KY. USA.
Emily Orzech. Muhlenberg College, PA. USA.
Carinna Parraman. University of the West of England, Bristol. UK.
Ben Rak. University of New South Wales. Australia.
Nicholas H. Ruth. Hobart and William Smith Colleges. NY. USA.
Derek Steffens. Las Vegas, NV. USA
Kitikong Tilokwattanotai. Chiang Mai Art on Paper Studio, Thailand.