OPEN PORTFOLIO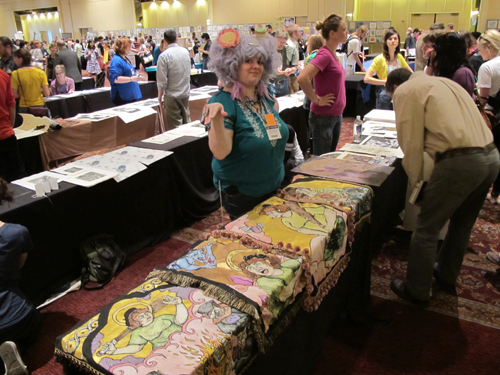 OPEN PORTFOLIO REGISTRATION WAS CLOSED AT THE REGULAR REGISTRATION DEADLINE
Open Portfolio provides an opportunity for conference delegates to present their work on a 8 foot table. Depicted here is the Open Portfolio Session from the 2012 SGCI Conference in New Orleans. The event will be held on Saturday March 21, 2015 in Exhibition Hall B of the Knoxville Convention Center and will be open to the public A $10 table fee is assessed at the time of conference registration. . The portfolio sessions will take place according to the following schedule:
Portfolio Session 1: 9:30-10:40am
Portfolio Session 2: 10:45-11:55am
Portfolio Session 3: 12:00-1:10pm
Portfolio Session 4: 1:15-2:30pm
The Open Portfolio will also include two public performances: "Dancing Ink" by Sukenya Best and "Skin Anthem II" by Alejandro Arauz.
A complementary Portfolio Check Station will be set up for participants to drop off their portfolios for safe keeping when they are not presenting their work.


.