inkubator session H2
SHARED VISIONS: COLLABORATIVE AND COMMUNITY ARTS ACTIONS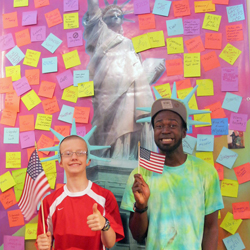 Friday March 20, 3:30-5:00pm, Salon 200 BC
Facilitators: Hugh Merrill, Kansas City Art Institute, Kansas City, MO, and
Adelia Ganson, Chameleon Arts and Youth Development, Kansas City, MO
Email: adeliaganson@gmail.com

From early political cartoons to Twitter, Facebook, and Instagram, images combined with the written word have changed the world. We are interested in the role of printmaking in social change and where it intersects with the role of art and artists. It is our belief that printmakers and printmaking students demonstrate creative avenues and ways to produce work that transcend labels, boundaries, and methodology. With the advent of a hyper-digital society, the power of original prints and graphics has increased. In our world of the backlit retina screen, a hand produced print, card, zine, or site specific image gains worthy attention, and gives artists the opportunity to disseminate opinion or information in a way the viewing audience can and will remember. This INKubator session will explore whether art can actively create social change? Why or why not? How can printmakers affect social change? What places print in a prime position to use creativity for social change? We view the session as an exchange of ideas and methods, and as a way of connecting artist/printmakers to disseminate their ideas and invent new arts actions pursuing social justice and audience involvement.
To participate in this session, email Adelia Ganson by November 1, 2014.

In advance of the conference, INKubator facilitators will establish an email thread or Yahoo Group to promote common readings or discussions by session participants. While INKubator sessions emphasize collaborative and dialogic processes, they are also intended to foster future outcomes, from exhibitions and portfolios, to projects and publications.