Welcome to the Web site of James E. Parks!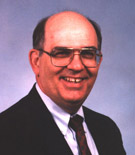 Dr. James E. Parks, Director of Undergraduate Laboratories
Parks Family Genealogy 2008 is a September 2008 revision of the book
Genealogy of The Parks and Related Families
compiled by James Edgar and Barbara Catron Parks and dated August 2002.
It contains the principle families: Parks, Wakefield, Rhyne, Beck, Hunter, and more.
The book is posted as a portable document format (pdf) file and is rather large
since the book is approximately 760 pages. As such, it may take several minutes
to download to your browser, and be even slower if you don't have a fast internet
connection. Since it is a pdf file, it requires you have the Adobe pdf reader program
installed on your computer.
Old Newspaper Articles About Coffey's General Store, Edgemont and Mortimer
Battle in Gragg Prong --A Snake & Fish Story
You are visitor number to my page since October 1, 1997.
---
This page was last updated on 07/10/09.